Location
Informationen zu diesem Event
Eintritt:

Stefanie, Stijn und Peter fanden sich 2013 zusammen, um Brutus zu gründen. Ihr Aufeinandertreffen war kein Zufall, spielten sie doch schon seit längerem in diversen Bands aus dem Umland der belgischen Stadt Leuven. Und obwohl sie mit unterschiedlichen Grundideen und Musikgeschmäckern an ihre neue, gemeinsame Herausforderung herangingen, entwickelten sie sich schnell zu einer starken Einheit, sowohl was die Musik, als auch was das Menschliche anbelangt.

Bands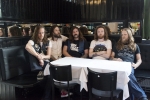 Brutus
BRUTUS are a Scandinavian quintet part Swede, part Norwegian
who subscribe to the Witchcraft school of throwback hard rock. Meaning that their brand of psychedelic hard rock is 100% ProTools-free, groovy, butterfingered and is guaranteed to make you flush down the toilets all those so-called 'modern' bands, grow your beard and listen only to Blue ,Cheer, Black Sabbath, Pentagram and Grand Funk Railroad -- as if it was the 70's all over again! After countless evenings and nights in front of, and around, their local bar. After heeps of loud discussions and intense arguments on how everything just sounded so much better before -- these guys felt the time was right to take matters into their own hands. These Scandinavians -- part Swede, part Norwegian -- subscribe to the Witchcraft school of throwback hard rock. Inspiration is drawn from amongst others: Blue Cheer, Sabbath, Pentagram and Grand Funk Railroad. In other words: butterfingered, groovy and psychedelic hard rock! In 2008 Brutus recorded a demo/EP for their own amusement. It didn't take long before you could read about the result in some of the biggest European magazines like Metal Hammer UK (one of 5 bands under "future stars"), Metal Hammer Greece, Close-Up Magazine (band of the week), Denimzine, and others. Summer 2009 Brutus took the ride to Gothenburg to record the debut album. 11 days and 11 nights at Music-A-Matic Studio (Hellacopters, Sator, Soundtrack Of Our Lives and more) with producer and engineer Henryk Lipp and Micke Nilsson. 8 tracks were put on tape and ready to be sent out to labels and for promotion. In 2010 the debut album came out on the on the Swedish label Transubstans Records. The respond was awesome. UK´s Metal Hammer gave the album 8/10, Greece Metal Temple 9/10. The band played at the retro festival Muskelrock in Sweden and got great reviews in Swedish newspapers. Even Angel Witch and Electric Wizard became Brutus fans. The band played shows in Germany, England, Denmark, Norway and Sweden.
2011: Brutus released a split 12" EP with Swedish band the Graviators on Transubstans. Svart Records released the debut LP and it sold out in a few months. Brutus did some small tours in Germany and Sweden. Svart Records released a 2nd press of the debut LP, which also sold out within few months. In 2012 Brutus played at Muskelrock, Heavy Days In Doom Town in Copenhagen and did a 9 days tour in Germany/Poland.
In 2013 a special gatefold version of the debut LP is now released by Svart Records. In the summer of 2013 the new album "Behind The Mountains" was released on Svart Records to critical acclaim. For 2014 Brutus are confirmed to perform at ROADBURN Festival in Holland and will undertake an European tour.
Website:
http://www.brutusband.com
Profilseite:
http://www.facebook.com/Brutusband