Band - DJ Vig0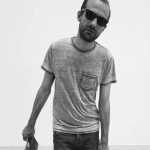 DJ Vig0 Tourdaten exportieren
Zur Zeit sind keine aktuellen Termine vorhanden...
vig0 is a dj and producer of electronic music living in Berlin. He was born in 1986 in Paris where he was first introduced to music by his father, a harmonica player with blues and rock'n'roll influences. Then, with the rise of the Hip-Hop culture in the 90's, he got into the movement with his brother listenning to U.S and French underground rap. He first experimented electronic music on a computer with a crew of parisian friends. He first played live acts and then dj sets in Paris where everybody noticed his eleguant style.
Then he moved to Berlin to take all the music influences and growing as deejay-producer.