Band - Daniel Spaleniak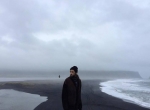 Daniel Spaleniak Tourdaten exportieren
Zur Zeit sind keine aktuellen Termine vorhanden...
a 24-year-old musician from ?ód?, Poland, who draws upon his bohemian background, favorite books and inspiring films to compose and write simple, honest music. His bluesy, folksy tunes have caught the eye of American television producers and have been featured in the popular tv shows Elementary and The Path.

Daniel Spaleniak's second album, Back Home, has been garnering the attention of media and festival bookers as well - he has already played the massive Open'er Festival, Indie Halfway and Cult Soundrive. Having made music since he was 16, Daniel says "I once thought that music was an addition to my life, now I think it creates it."

Having released his later album "Back Home" in March 2016, Daniel is already composing a third studio album. Between writing and recording, he is touring around Poland, played the biggest festivals such as SXSW in Austin, Texas, as well as Open'er Festival, Halfway Festival etc., with another album release possible in the second half of the year.