Location
Informationen zu diesem Event
Eintritt:


Bands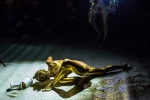 Le Petit Bleu & the Leftovers
NEW CIRCUS on its highest level
Introducing the premiere collaboration between
BIRDMILK COLLECTIVE and Leftover Company produced by Haus Dampf.
Directed by Eike von Stuckenbrok and Ethan Law and cast with world class acrobats, dancers, digital artists and musicians,
Le petit Bleu and the Leftovers is a rare mix, the kind you can only find after 25 hours of overconsumption.
BIRDMILK COLLECTIV
The Birdmilk Collective combines high art of equilibristics with contemporary live music and interactive visuals. Working together with a diverse pool of worldwide performing artists, musicians, DJs and VJs, all together producing a myriad of quality entertainment forms, Birdmilk is basically about two things: show and party.