Location
Informationen zu diesem Event
Eintritt:


Bands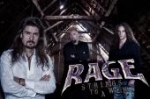 Rage
The Rage story begins way back in 1984 when Avenger first got together. Following the arrival of their debut album, " Prayers of Steel" , and an EP, Avenger changed their name and became Rage, releasing " Reign Of Fear" in 1986. Albums came out at regular intervals, and Rage toured with Running Wild, U.D.O., Motörhead and Saxon in the early Nineties. Their 1992 album release " Trapped" marked their international breakthrough, a temporary highlight being Rage's tour of Japan. Their triumphal march was repeated in 1993 with " Missing Link" , followed by a personnel change. The new line-up recorded " Lingua Mortis" , the first classical album by a German metal act, in 1996.
The material was performed live for the first time in late summer 1996 in Kufstein, Austria. Subsequently, Rage plus orchestra embarked on a celebrated Christmas tour and played several European festivals. Their thirteenth album " XIII" saw the light of day in March 1998, marking not only another highlight in the band's mehr....
career but also the beginning of a new chapter in their line-up: the subsequent album " Ghosts" was followed by a severe personnel change, resulting in the current Rage team – the strongest one to date –, featuring Peavy, Victor Smolski and Mike Terrana. The trio underwent its baptism of fire at the Wacken Open Air in August 1999, presenting an impressive recording in " Welcome To The Other Side" . Their subsequent releases " Unity" and " Soundchaser" met with equally enthusiastic reactions from press and fans alike, and the tours – with Primal Fear in 2002 and Helloween in 2003 – turned into veritable triumphal marches. Rage are about to celebrate their 20 th anniversary with " From The Cradle To The Stage" , documenting that no Rage line-up was as strong a force on stage as the current one featuring Peavy, Smolski and Terrana. The European tour in November/December 2004 is guaranteed to confirm this impression.
The RAGE album "Speak Of The Dead", which was released in 2006, has also gone down super at the international press, and during an sold out European tour, the concert in St.Petersburg was recorded for a live DVD called "Full Moon In St. Petersburg". Due to personal and musical differences, RAGE split with Mike Terrana end of 2006, and André Hilgers became new drummer of RAGE. Andrés first concerts were the shows together with the "Lingua Mortis Orchestra" in Russia, Ukrain, Czech Republic and also at the "Wacken Open Air" festival in Germany, where the show infront of 100.000 people was recorded. This material was used to become a bonus DVD for the upcoming RAGE studio album"Carved In Stone".
Profilseite:
http://www.myspace.com/rage