Location
Informationen zu diesem Event
Eintritt:


Bands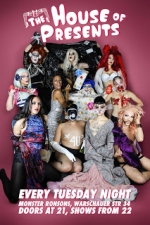 The House of Presents
EVERY. TUESDAY. NIGHT. The ladies of the House of Presents spread their legs and welcome you to MONSTER RONSON'S for a drag show you don't want to miss! Support these hard working queens as they entertain you on the hardest day of the week, evey week!
Dive into GIEZA'S POKEHOUSE as Gieza Poke is going to be hosting a pre-show with brand-new talent every week! Category is: Queen first time in drag on the stage! The newcomers show starts promptly at 22.
At 23, PANSY and THE HOUSE OF PRESENTS give you the shows you've been loving for the past four years. We're the gifts that keep on giving and can't wait to share our secrets with you!
THE HOUSE OF PRESENTS
Every Tuesday at Monster Ronson's
Doors at 21
Shows from 22